'Game of Thrones' season 8 ending: Fan theories and reflections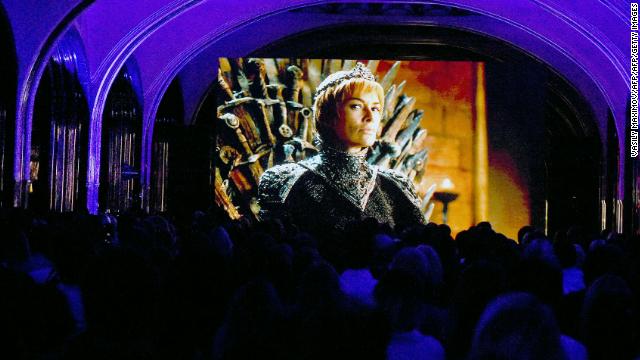 Henry Martinez of Ennis, TX writes:
I have my wife to thank for introducing me to "Game of Thrones." She was already mired in the world of Westeros through the George R.R. Martin novels, and I was quickly hooked.
As a bit of a TV historian myself, GoT stands apart to me from any series prior because of its grand scale and epic storytelling. But at its core, this story is about family. The Starks, Lannisters and Targaryens aren't all that different from the Corleones, the Whites or the Sopranos.
It's about choices made and their consequences, both intended and unintended. Anyone with a family, like me, can surely empathize. I don't know if "Game of Thrones" will end up being the greatest television show of all time, but it almost certainly will have the crown of most visceral and impactful.
Linda M. of Winthrop, MA writes:
I did not watch the first seasons of GOT when it originally aired. But my son, Anthony did. And so did his friends. Our house became "the spot." I would cook for anyone who was hungry, it was a casual open house for whomever was available to join. Dinner, fresh baked cookies and we could have anywhere from 5-12 people.
It became the modern-day equivalent of the Sunday dinner that I so enjoyed growing up. Family and/or good friends catching up on the prior week.
It was great fun, but now Anthony lives in LA. We all miss enjoying it together, but catching up on the latest storylines is still an additional impetus to call one another.
Elizabeth Pachus of Needham, MA writes:
Every Sunday night a large group from my dorm watches together and then we debrief afterwards. We are devastated that school ends before the finale and we will all have to watch who ends up on the Iron Throne (fingers crossed for a Stark) from our respective households.
Renee Aubuchon of San Francisco, CA writes:
I remember when the TV series "Lost" ended a number of years ago. I felt somewhat set adrift. Where will I go for great, engaging storylines and characters now? Eventually "Game of Thrones" came along, and I have been enchanted.
It's been great, because multiple generations of my family have watched the show and then discussed our reactions. I never have been a fan of the graphic sex and violence. I have tolerated that so I can continue to experience the lives of the characters.
Sandra Burgess of Herndon, VA writes:
"Game of Thrones" has been the first topic where my friends, family, and coworkers — all whom are vastly different — will discuss and have deep conversations about actions, meanings, hopes, and perspectives. Similar to sports, we all are rooting for someone completely different and have our own reasons why.
The show has opened up doorways of deep communication with individuals I've never had the experience with previously. Similar to real life and unlike other television shows, in "Game of Thrones" anything can happen at any time. You love the main character that's in every episode? HA. They die the next week. Excited to think you've figured out a particular even that'll occur next? Nope. A new event occurs, crumbling your outlook.
The characters are relatable, both the seemingly "nice" and the seemingly "bad." The spins, twists, and turns of "Game of Thrones" has been an amazing ride and I'll miss the opportunities for camaraderie it allowed us to build as fans.
As far as my prediction for who will 'win' — I believe Bran will eventually sit upon the Throne, with Jon going back to the "true north."
David Chatfield of Los Angeles, CA writes:
The show has just been such a source of excitement and enjoyment for me. I host a weekly "Game of Thrones" viewing party with friends (we've been meeting since season 2), and I can honestly say that I look forward to new seasons more than any film release (including "Avengers" and "Star Wars.") Additionally, the show has become a favorite of my eldest daughter's, so it gives us so much to talk and theorize about. I'll miss the show tremendously!